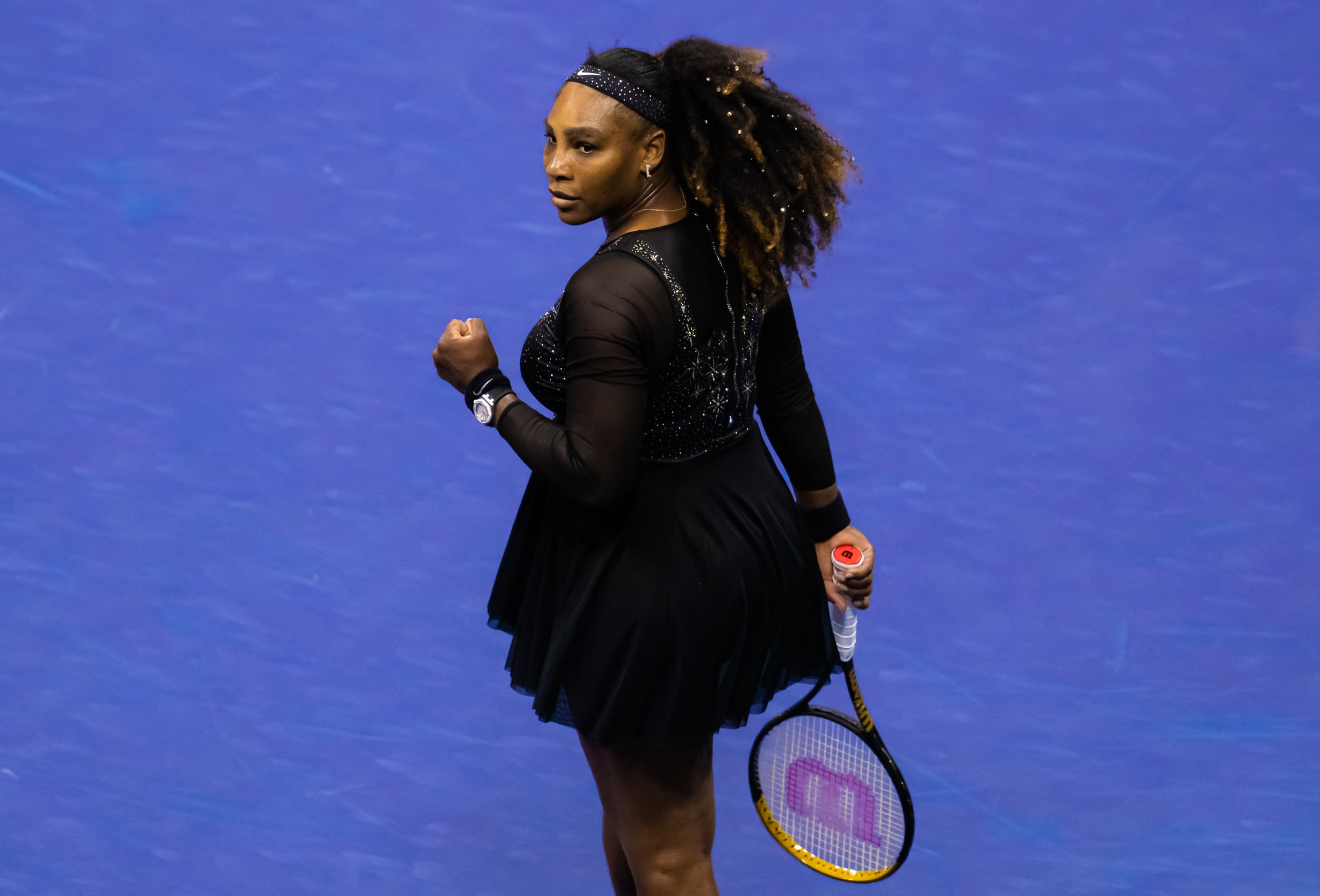 Serena Williams has always been the type of athlete you run out of superlatives for, but her current run in the US Open is truly challenging my vocabulary. Spectacular? Improbable? Maybe not otherworldly, just yet, but heading in that direction.
Two matches into the US Open, Williams — 40 years old, retirement in her sights, currently ranked 413 in the world — is on something of a roll. She's defeated two opponents, Danka Kovinic and Anett Kontaveit, who are 13 and 14 years her junior, respectively, and sitting several columns above her in the Women's Tennis Association rankings. (Kovinic: No. 80. Kontaveit: No. 2.) She's graciously accepted her accolades, then gone out and reminded us it's not over yet. This run is both shocking and unsurprising. Williams is defying expectations by doing exactly what she's always done: hitting aces and taking names. Winning, no matter the odds.
It's thrilling because no one knew what to expect when Williams took the court in New York. She'd already announced, via an emotional Vogue story, that she would be retiring, aka "evolving away" from tennis, which ensured there would be even more fanfare surrounding the US Open than normal. Williams herself knew she had nothing to prove in the sport, as the winner of 23 Grand Slams and one half of a trailblazing duo (with older sister Venus) that showed how successful Black women could be in a white-dominated sport. In her own words, Williams was under no pressure and had nothing to lose. This was a time for celebrating her career and what would come next. She seemed focused, but at peace.
Then, in front of a sell-out stadium and riveted TV audience (2.7 million watched on Monday alone), Williams rode the frenzy to two upset victories.
It's as if, with all eyes on her, Williams decided to take the opportunity and remind us just how good she is. She outlasted her opponents in epically long rallies. She nailed aces like she always has. She fist pumped and stared down and twirled (covered in diamonds) as she waved to the fans. The third-set comeback in her second-round game was a display of not just prodigious talent but also tenacity as she fought for every point. Even watching on TV, you could feel that star-studded crowd (hi, Zendaya) willing her to victory. You could feel how much she wanted it, how much she still wants it, even after those 23 Grand Slam titles. If there's one thing Williams hates, it's losing, and she's always thrived under the spotlight and in front of a full-capacity crowd.
Of course, Williams's presence always guarantees a sell-out; her matches have long been must-see events, with her combination of skill and showmanship. At the risk of stating the obvious, though, this tournament is different. It might be her last professional tournament, and every time she steps on the court could be the last. That knowledge changes the significance of what we're watching. It's not just a tennis match but possibly a swan song of one of the greatest athletes many of us will ever see.
Speculation over Williams's retirement is nothing new, but now it's reached a fever pitch. If this US Open really is her last tournament, it's something of a countdown clock. Winning is a way to delay the inevitable and enjoy watching her perform for a little bit longer. At the same time, it's a reminder of who she is, has been, and will always be: a star who changed her sport and then transcended it, an athlete whose impact, on and off the court, actually can't be overstated. It's not hyperbole to say she has changed the world and will continue to do so.
We know why these matches are so special to watch: because it's the end of a historical career; because no one would've thought she'd get this far (in this US Open and, really, in the sport itself) . . . and she might go farther still; because sports icons so rarely get the send-off they deserve, and she's out there earning hers, one point at a time. Williams is leaving tennis on her own terms, and that means winning for as long as she can. How is she doing it? How far will she go? Williams herself put it best, after her second match, when asked if she was surprised at the level of her play. She replied with a knowing smile. "I'm just Serena," she said. That's always been enough.