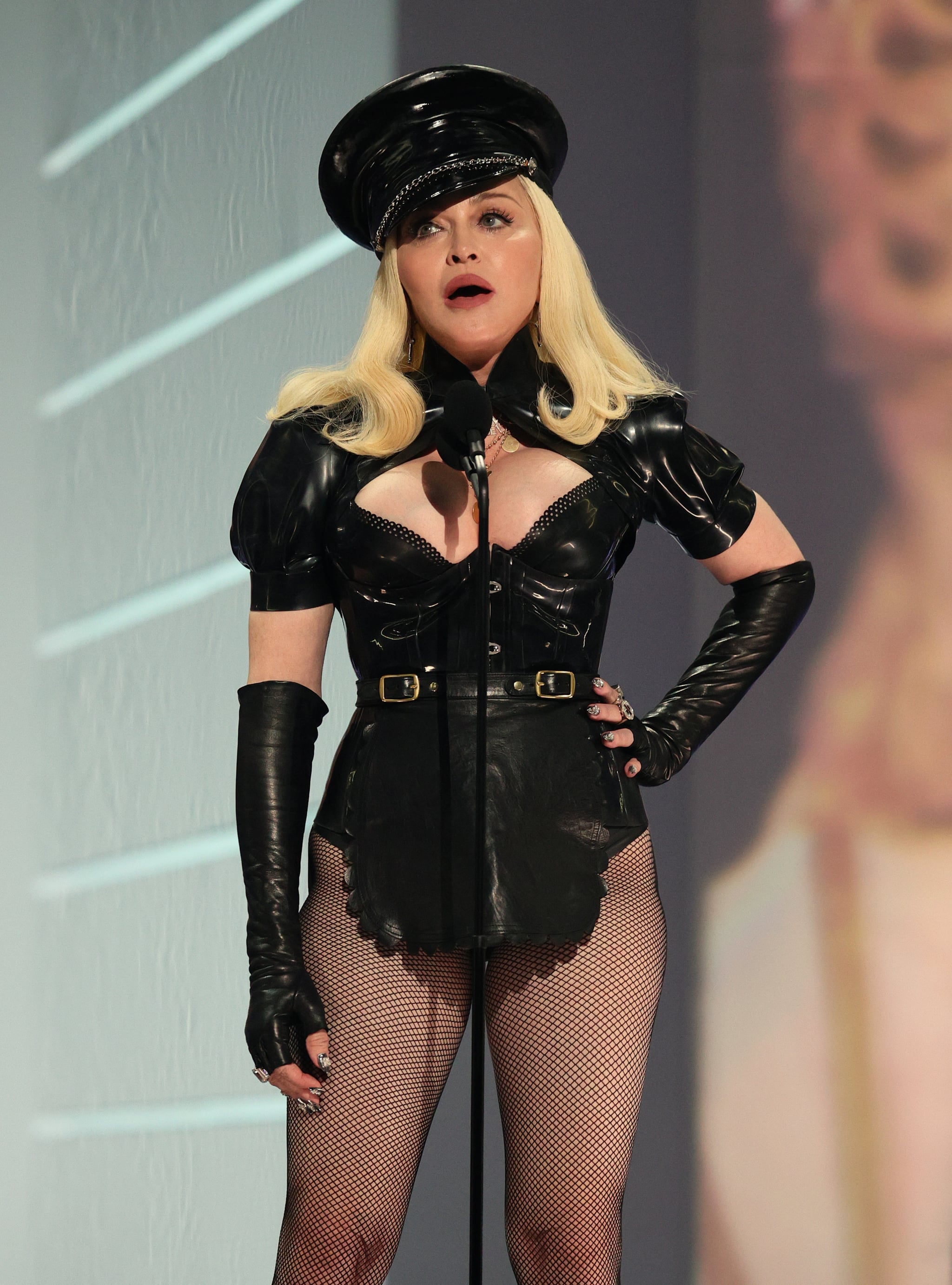 Image Source: Getty / Theo Wargo / MTV / ViacomCBS
Madonna has released 14 studio albums, won seven Grammy awards, starred in critically-acclaimed movies, and made a name for herself as a fashion idol. Over the course of her five-decade career, the singer has cemented herself as a global pop culture icon, and she attributes her success to one important pastime: sex. On Aug. 30, the "Like a Virgin" singer shared a YouTube video answering fan questions about her new "Finally Enough Love: 50 Number Ones" remix album, how she's "gagging to work with Britney [Spears] again," and her passion for maintaining an active sex life.
"Have you read my sex book?" she asks the camera at the top of the video, referring to her debut book "Sex" (1992), which features erotica-influenced photos taken by Steven Meisel and film frames shot by Fabien Baron. Within days of publication, the book sold 1.5 million copies and remains one of the fastest selling coffee table books to this day. It also topped the New York Times Best Sellers list for three weeks.
Between shots of the superstar posing seductively against a wall in her den and lashing a leather chair with a horse riding whip, Madonna also answered a few rapid-fire questions with her favorite activity in mind. Guilty pleasure? "Sex." Zodiac sign? "Sex." Current favorite obsession? "Sex." What keeps you going? "Sex." What is your life mantra? "Sex." What's your secret to success? "Sex." Favorite thing to make? "Wait for it . . . love." When asked her favorite snack, she adds, "I can't remember his name — oh, no, [I do]: Big D*ck. I don't ask that much."
While Madonna's openness about her sex life doesn't come as a surprise after over 40 years of being recognized as one of the biggest sex icons in the world, the mom of six did reveal one piece of information that left fans buzzing in the comments section. "If you could only wear one thing for the rest of your life, what would that be?" the robotic interviewer asked her. Looking over her shoulder nonchalantly, the star replied, "My 24-karat gold vibrator necklace," likely similar to this Vesper Massager Necklace ($150), which doubles as a sexy piece of jewelry and a pinpoint vibrator.
Considering Madonna's overwhelming success as a musician, dancer, and actor, a vibrator necklace might not be a bad treat-yourself gift. See her full YouTube interview here and shop a similar massager necklace ahead.