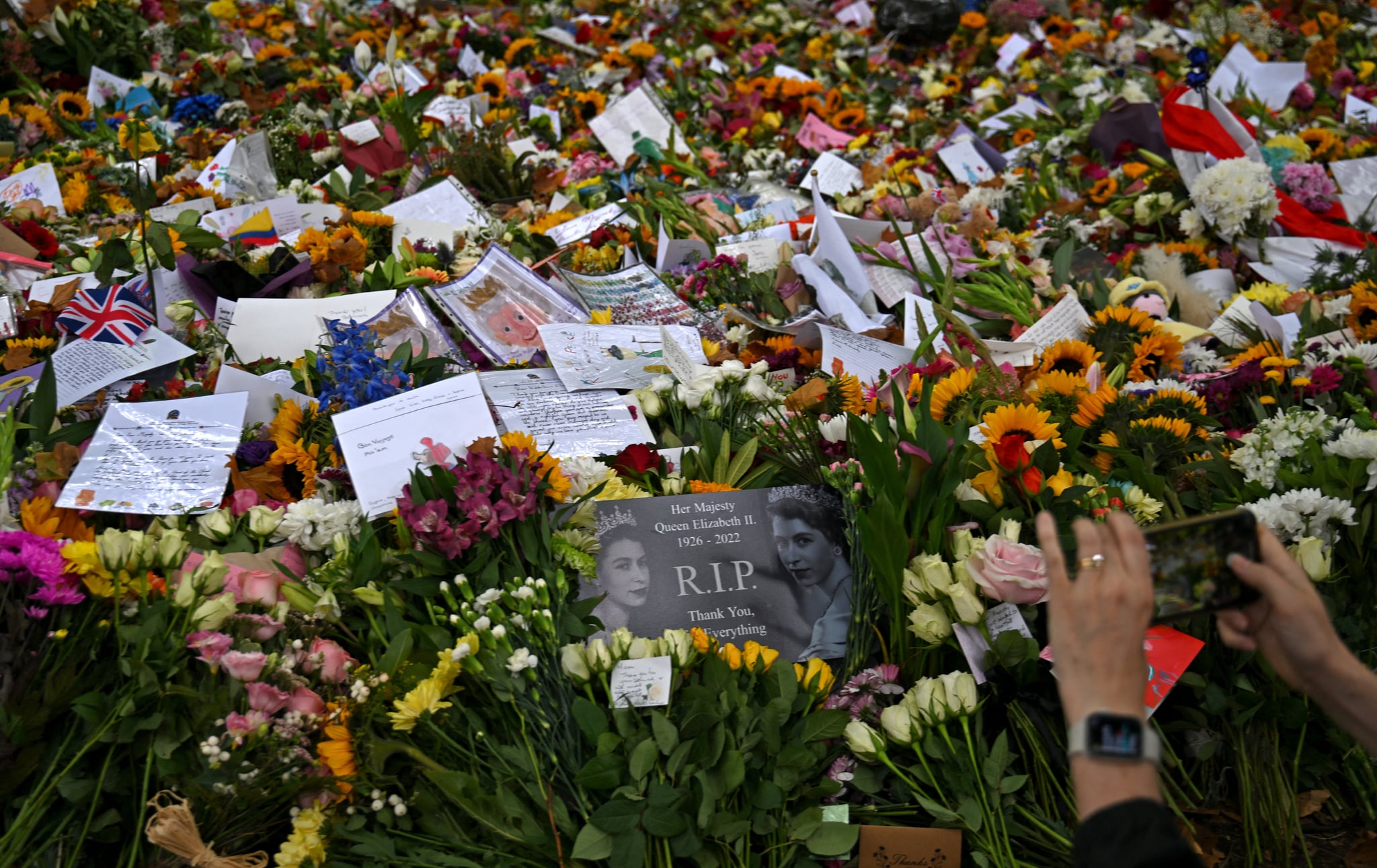 There are certain world events that occur, and you just know that you'll always remember where you were when you first heard the news. Sept. 8, 2022, the day Queen Elizabeth II died, will certainly be one of those moments in time for many of us. And yet nothing has exposed the deep fissures in our global community quite like this. As announcements of her death hit social media and interrupted broadcast television, a range of opinions and emotions exploded onto the scene.
Many (mostly white) people (minus the Irish, who haven't forgotten the brutal 30-year conflict fought in Northern Ireland during the Queen's tenure) began to eulogize the Queen with sanitized recollections of her life and legacy. Meanwhile, people of color and commonwealth nations around the world have expressed anger at the 70-year reign that only existed on our backs. As Fred T. Joseph said in a recent Instagram Reel, "there's never a bad time ever to talk about oppression… Someone passing away doesn't suddenly absolve them of the things that they've done, especially if they didn't do anything to correct the ways they've harmed people or benefitted from harm unaddressed while they were living."
the impulse to be gentle with empire and imperialists who uphold them is nowhere in my body

— Terisa Siagatonu (@terisasiagatonu) September 8, 2022
Nations, everyone in England is distracted. It's the perfect time to get your stuff back from the British Museum.

— Will Choy (@thewillchoy) September 8, 2022
Telling the colonized how they should feel about their colonizer's health and wellness is like telling my people that we ought to worship the Confederacy. 😒

"Respect the dead" when we're all writing these Tweets *in English.* How'd that happen, hm? We just chose this language?

— Ebony Elizabeth Thomas (@Ebonyteach) September 8, 2022
While some of the social media jokes and commentary has been deemed insensitive from those who call for respect at this time, it's important for people to recognize the complex emotions at play from the pain that people of color have had to swallow whole for centuries. We've had to watch the Queen — and Buckingham Palace as a whole — parade the monarchy's wealth and power, evidence of colonialism. We've paid entrance fees to walk around museums with spoils from our nations. We've been regularly told to respect protocols and show decorum when said niceties have only brought our people theft and death. Why should we be expected to mourn someone who never exercised empathy toward the people who lived under her thumb? Cornel West once shared something during a speech at Harvard that everyone should keep in mind during moments like this: "you must let suffering speak, if you want to hear the truth".
Why should we be expected to mourn someone who never exercised empathy toward the people who lived under her thumb?
During her lifetime, Queen Elizabeth II maintained all of the remnants of colonization, from the diamonds that she wore to the wealth she exhibited.
Queen Elizabeth II has ruled since 1952, and in doing so enacted many policies and laws that disadvantaged people of color. Her reign, for example, marked the beginning of the Mau Mau rebellion in Kenya. The eight-year-long fight for Kenyan independence was drawn out by violent policies that pushed Kenyan farmers off of their land. More than 1.5 million people were forced into concentration camps and over a million more were pushed into poverty as they mourned the deaths of their loved ones and neighbors. While approximately 5,000 fighters have received compensation for their pain and suffering, many have not. Muthoni Mathenge, an elderly woman and former independence fighter, is one of the many who have gotten nothing. In a recent interview she declares, "Let [Queen Elizabeth II] give me a just compensation, because she is the ruler. Let Elizabeth bring what belongs to me."
The violence of the Queen's leadership doesn't end there. Documents unearthed in 2021 revealed how Queen Elizabeth II went out of her way to ensure that "coloured immigrants or foreigners" wouldn't be employed at Buckingham Palace, except as domestic servants. This practice lasted for the first few decades of her time as Queen, shielded in large part by clauses that ensured members of the Royal family would be exempt from laws barring race and gender discrimination.
And in a more recent blow to the current movement to end gender-based violence and meaningfully address rape culture, Queen Elizabeth II has shielded her son, Prince Andrew, from accountability for allegations of sexual abuse in connection to Jeffrey Epstein and Ghislaine Maxwell.
This is one of those fascinating times when you see the difference between people who think of monarchs and colonialism are part of some fantasy world, like Disney stories, and those who know the evil of it and whose parents can talk vividly about the cruelty and lasting impact.

— Zito (@_Zeets) September 8, 2022
If anyone expects me to express anything but disdain for the monarch who supervised a government that sponsored the genocide that massacred and displaced half my family and the consequences of which those alive today are still trying to overcome, you can keep wishing upon a star.

— Uju Anya (@UjuAnya) September 8, 2022
All of this to say, the death of Queen Elizabeth II is rife with emotion and complexity. And we'd be remiss not to acknowledge the strange dissonance people are experiencing right now. While some view her as an icon and "kind-hearted queen," to others she represents a painful history of violence, oppression, and disadvantage. Many of us aren't grieving a head of state, but rather grieving truth as we watch history be rewritten right before our eyes. It feels discouraging, to paraphrase Brittany Packnett Cunningham, despite the many racial justice reckonings we've had that many opt for decorum over the impoliteness of radical honesty. As Black woman and activist, I for one did not pray to God to save the Queen — nor will I be flying any literal or figurative flags at half-mast. I'd much rather bring respite and reparations to the victims of British colonialism. May the monarchy, and all systems of oppression and exploitation, end with her.
Brea Baker is an activist and writer known for contributing op-eds, reported pieces, and personal essays on race, gender, and politics. Hailing from New York, but based in Georgia, Brea enjoys writing pieces that boost our collective imagination and allow us to co-create the society we want to be part of.
Image Source: CARL DE SOUZA/AFP via Getty Images