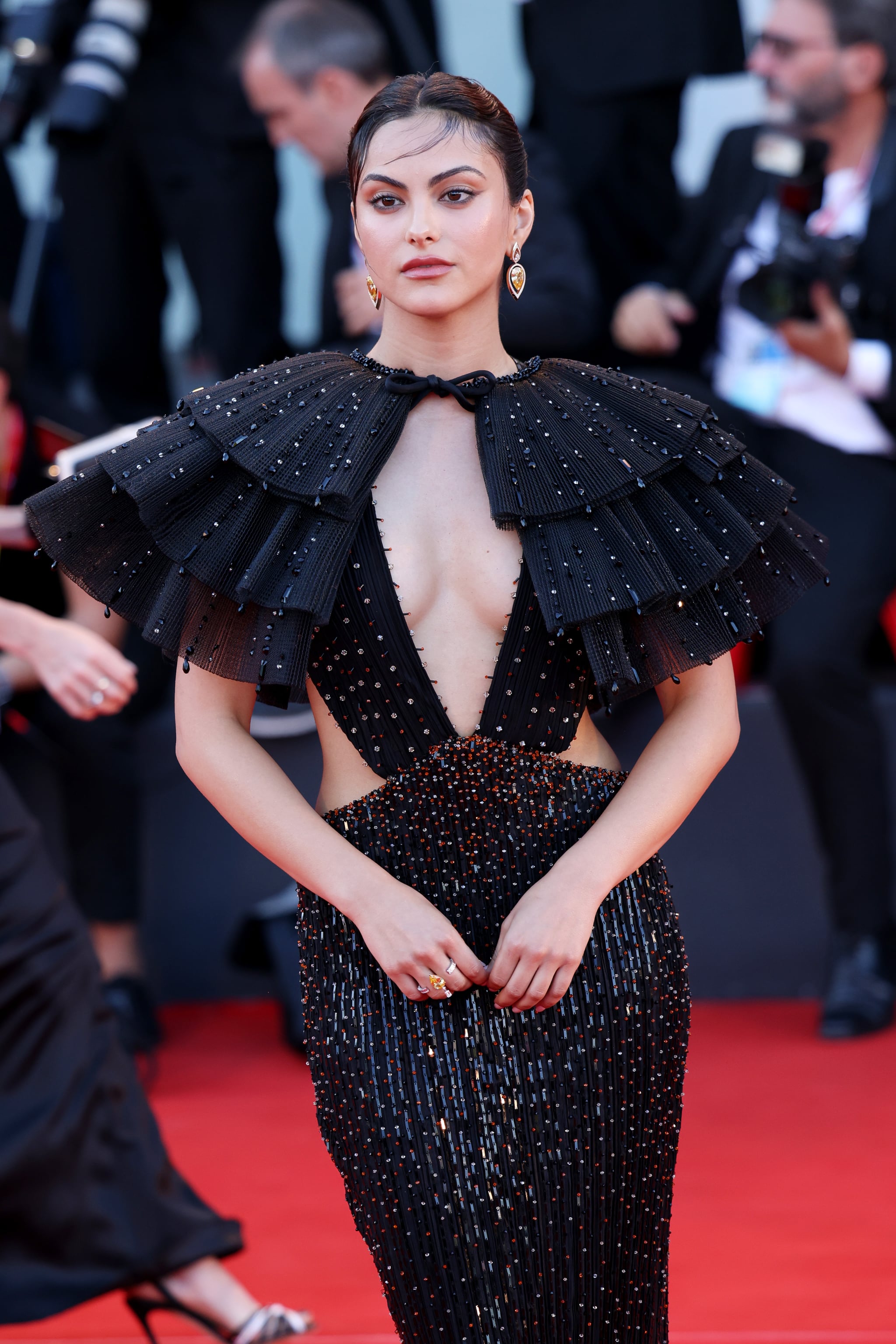 Image Source: Getty / Vittorio Zunino Celotto
Content warning: This post discusses eating disorders and mentions sexual assault.
"I am constantly having to look at my own face, and it's truly exhausting," Camila Mendes said during her podcast debut on the Jan. 26 episode of Dear Media's "Going Mental." "But what it's done is I am so desensitized [now]." The podcast, hosted by sex educator Eileen Kelly, invites a rotating cast of media figures to discuss love, work, sexuality, intimacy, and mental health. During her spotlight on the show, Mendes began an honest discussion about her past eating disorder and the impact therapy had on her body-image struggles as a young actor.
"I was so insecure, and it really fueled my eating disorder."
"I think I really have a good sense of what I look like now," the "Riverdale" star told Kelly. Like her fellow women actors, Mendes noted that being in the entertainment industry has heightened her awareness of her physical appearance, making her more vulnerable to criticism from herself and those around her.
"[During] season one [of 'Riverdale'], I would watch every episode and be like, 'Oh my god, my stomach there. Oh my god, this and that,'" she recalled. "I was so insecure, and it really fueled my eating disorder. I had one at, like, various points in my life: a little bit in high school toward senior year and then a little bit in college, and then it came back in season one of 'Riverdale.'"
Mendes added that she was especially hypercritical of her body in her early 20s. "My body hadn't settled into itself yet, and I was looking at myself, picking myself apart: my stomach, my arms, my chin, anything. I would obsess over it," she said. "Then it got in the way of my acting. It really f*cks with your process and your ability to emote and be organic."
For Mendes, the missing puzzle piece fell into place when she began seeing a therapist and nutritionist to heal her eating disorder. "I was really afraid of eating carbs," she said. "What would happen is I would avoid it for a really long period of time, then I would binge and eat a bunch, and then purge. So it was this terrible cycle, and [my therapist] helped me overcome that by re-introducing bread into my life to be like, 'See? It's not going to kill you.' Now it's something that rarely comes up in therapy."
Over time, her relationship with food and her body improved. "At a certain point, you just have to make peace with your body and stop resisting it so much," she said. "You've just got to let your body do its thing and roll with it instead of fighting it."
On Feb. 19, 2018, she declared herself done with dieting. "My passion for education, cinema, music, etc. — all the interests that used to occupy my mind — had been eaten away by my desire to be thin, and it made me miserable," she wrote on Instagram. "I'm done believing in the idea that there's a thinner, happier version of me on the other side of all the tireless effort."
"I don't know that I could have done it alone."
As a parting word of advice on the podcast, Mendes encouraged listeners experiencing similar eating disorders to see a therapist. "I don't know that I could have done it alone," she said. "You can talk to your friends and family all you want, but not everyone can offer the advice that you need."
Following the interview, Kelly thanked Mendes for her openness. "75 [percent] of women in the US report having an unhealthy relationship with food," Kelly captioned a clip from the interview on Instagram, citing a 2008 study by University of North Carolina at Chapel Hill. "67 [percent] of women are trying to actively lose weight. In the era of social media, it seems diet culture is more prevalent than ever. I love that Cami is open about her struggles and that the help she received worked!! If you struggle with unhealthy thoughts, feelings, or behaviors related to food or your body, I want to remind you that help is available."
Halfway through the episode, Mendes also went in depth about being sexually assaulted when she was 19 years old. "He was like 35 or something," she said. "I met him that night. We went back to his house — me and my friend and this guy that she was seeing." Mendes explained that while she was passed out on the couch, the older man picked her up and brought her to his bedroom, where he sexually assaulted her. "I remember he texted me the next morning, and I was like, 'Never f*cking talk to me again,'" she said, pointing out that her attacker never acknowledged causing her harm.
On her Instagram Stories, Mendes shared her gratitude to Kelly for being so receptive and making her feel comfortable in sharing the private details of her life on air. "thank you @eileen for providing a safe space to open up about topics that are very personal to me," she wrote. "some of those i've opened up about before, though not to this extent, but there's one in particular that I don't think I could have opened up about on any other podcast. grateful to have had my first podcast experience with you."
Hear more about Mendes's mental health journey, dating history, and her thoughts on the need for more diverse Latinx representation in Hollywood in her full "Going Mental" interview ahead.
If you or someone you know is struggling with disordered eating or an eating disorder, the National Eating Disorder Association has resources available including a 24/7 helpline at 1-800-931-2237. For crisis support, text "NEDA" to 741741.