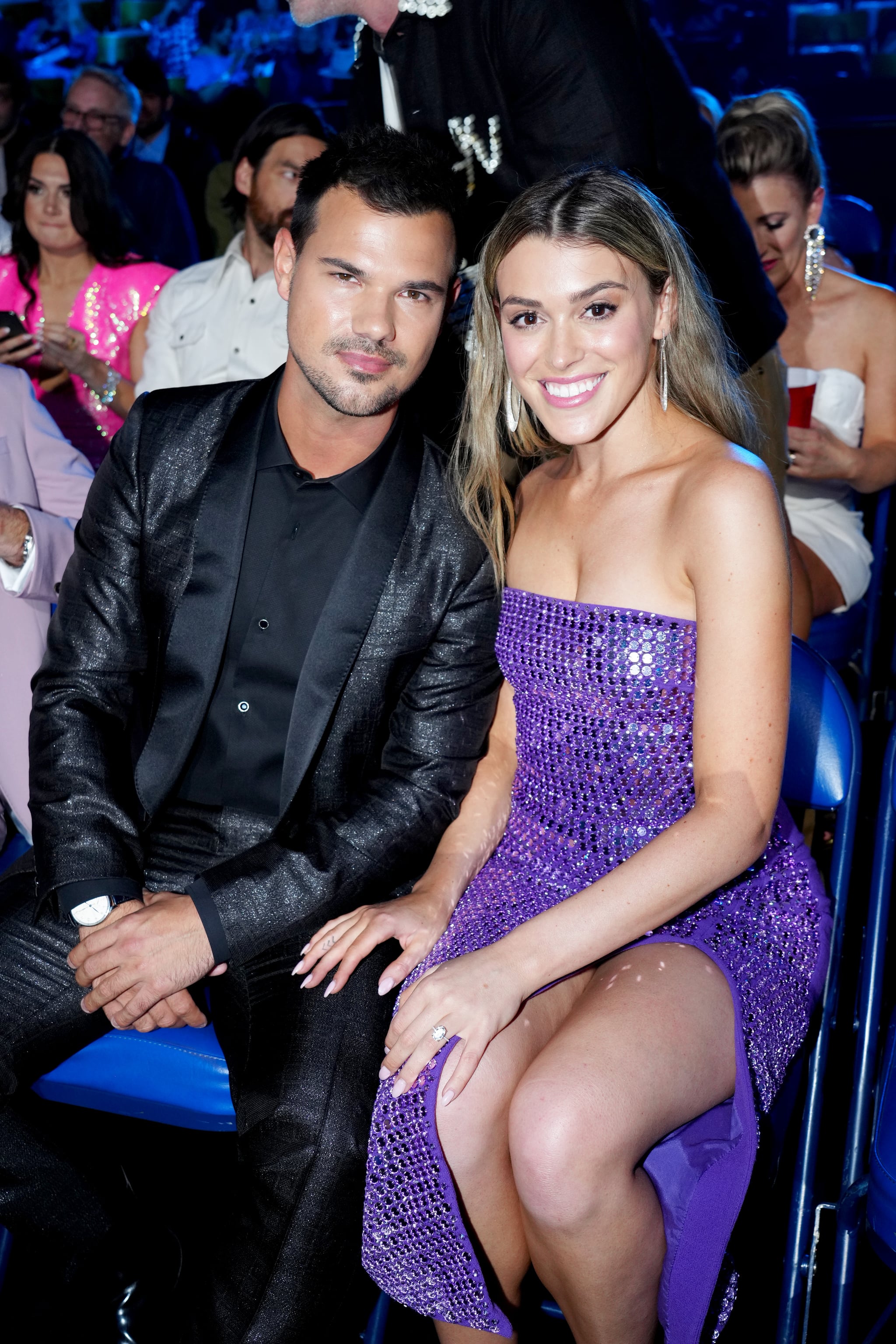 Image Source: Getty / Jeff Kravitz / CM
Taylor Lautner and his wife, whose name is also Taylor Lautner, are opening up about increased attention in recent years and its effect. In a Feb. 2 episode of "The Toast," the couple spoke about paparazzi leaking photos of their intimate California wedding in November 2022, and the media frenzy that ensued once it became clear that Mrs. Lautner, who also goes by Tay, would be taking her husband's last name, thus making them both have the same exact name.
"I've never seen her this upset."
Though the Lautners expected confusion and amusement surrounding their shared name, they weren't prepare for the mental toll of navigating a near-constant paparazzi circus. "It was definitely an adjustment," Tay told podcast hosts Jackie and Claudia Oshry of being thrust into the spotlight. "I think, one of our first dates, we were getting back in the car and paparazzi were shooting us and [Taylor] puts the sun visor down. I was like, 'What are you doing?' He was like, 'This is what you do [to shield yourself].' Even on our minimoon he's like, 'OK, look for boats. They're going to be taking photos.'"
At the beginning of their relationship, Tay and Taylor took precautions to avoid media attention. At times, they wouldn't even hold hands. For both Lautners, the worst of the paparazzi storm hit immediately following their wedding. "It was of our first look, so it was the first moment that I saw her in the dress, she sees me, a very emotional moment," Taylor recalled, describing the leaked paparazzi photos. "I've never seen her this upset." For Tay, the invasion of privacy was difficult to overcome.
"The weekend went so great," she said. "Everything went absolutely perfect. I literally couldn't have asked for a better weekend." However, "We woke up to that story and to those photos . . . That's a moment I've dreamed about for so long. I was a hot mess. That's probably been one of the biggest moments in our relationship that I've been like, 'Well, this sucks.'"
As werewolf Jacob Black in the Twilight franchise, Taylor grew accustomed to stardom at an early age. The actor said it's been "awful" seeing his wife now experience it, but "she handles it like a pro," he added.
Prior to the wedding, Tay worked as nurse at a hospital during the pandemic. While she had never personally experienced mental health issues in the past, the demands of being an essential worker took an immediate toll. "It was a constant cycle of being understaffed — increasing our patient intake. Instead of four patients, I had five. I was a new grad, on my own, having to run into each room, put all the PPE on," she said.
When asked by Taylor if she was OK after a three-night shift and she had no response, Tay began to check in with herself more frequently. "That was the first time I was like, 'Am I struggling with something? How am I doing?'" She said, "It definitely took me a few months to process that because you can't process when you're in that heightened environment." In June 2021, Tay was diagnosed with long COVID and took it as a sign from the universe that she needed a break. Soon after recovering, she left her job at the hospital and began Lemons by Tay, a mental health nonprofit.
Today, both Lautners make their mental health a priority. As of Feb. 1, Tay and Taylor also host "The Squeeze," a podcast about mental health and well-being. On his mental health journey, Taylor said, "I'm in the middle of it." He added, "I'm still very much in the process of figuring out all those things I went through [as an actor] and how they affect me today and how I go about life now in the healthiest way. I think it was a strange upbringing — so many incredible things that come with it that I'm so thankful for and I wouldn't trade a thing — but there was definitely no handbook to diving in as a COVID nurse and no handbook to being a werewolf."
During the interview, the Lautners also discussed wedding planning, nicknames, and how Taylor convinced Tay, a lifelong Team Edward fan, to switch to Team Jacob. Listen to their full interview on "The Toast" ahead.