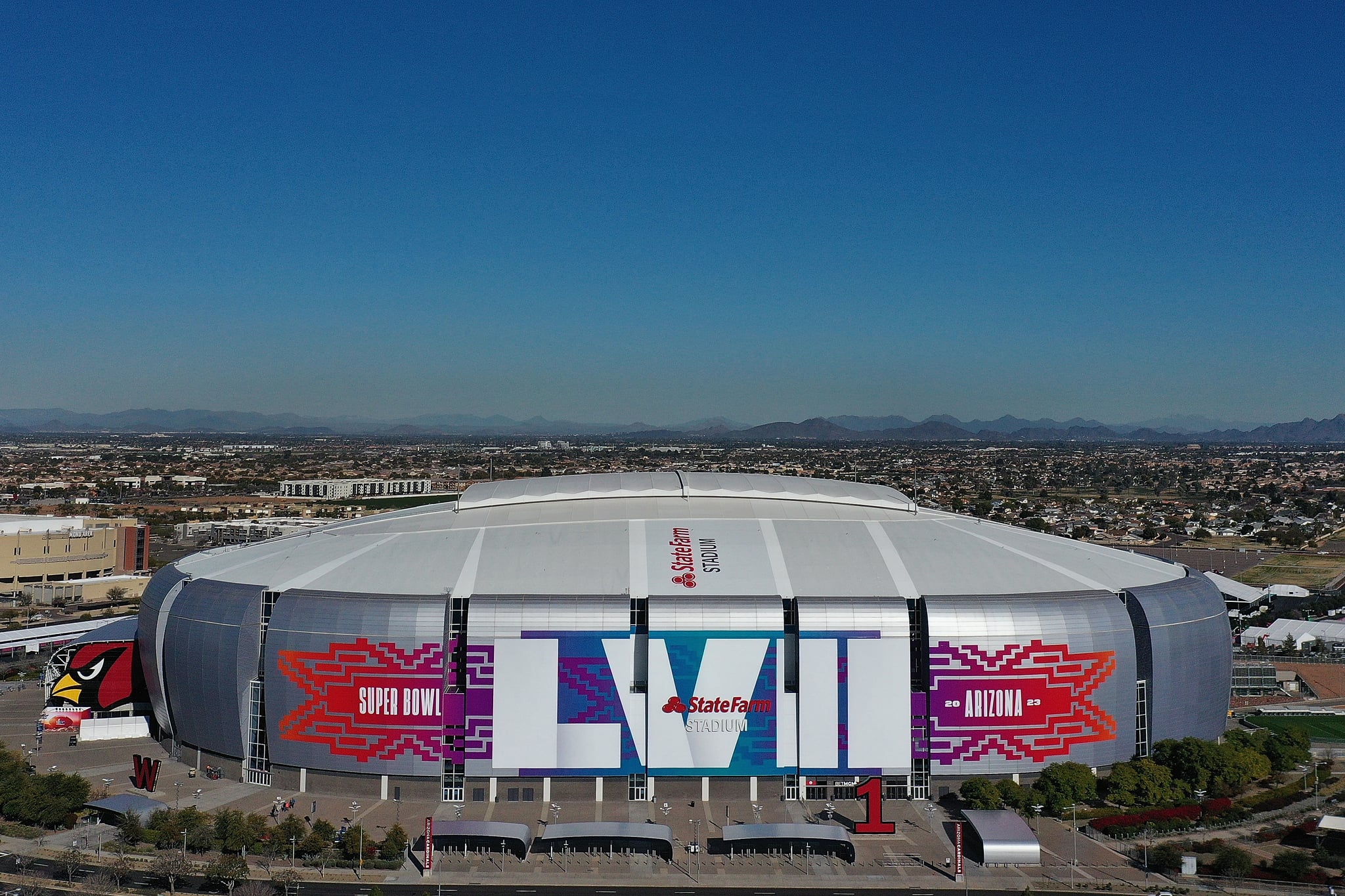 Image Source: Getty / Christian Petersen
Super Bowl LVII is shaping up to be the best one yet (and no, not just because Rihanna is performing at halftime). This year represents a series of monumental firsts for Black athletes, coaches, agents, and fans.
For starters, this is the first time two Black quarterbacks will compete against each other in a Super Bowl, with Jalen Hurts leading the Philadelphia Eagles and Patrick Mahomes leading the Kansas City Chiefs.
"It is history," Hurts told USA Today in a recent interview. "It's come a long way." Hurts also went on to say that "to be the first for something is pretty cool. I know it'll be a good one."
Mahomes, who led the Chiefs to their 2020 Super Bowl win, is only the third Black quarterback to have won a Super Bowl. He also acknowledged the momentous occasion.
"To be on the world stage and have two Black quarterbacks starting in the Super Bowl, I think it's special. I've learned more and more about the history of Black quarterbacks since I've been in this league and the guys that came before me and Jalen [Hurts] set the stage for this," Mahomes told USA Today. "I'm glad we can set the stage for kids that are coming up now."
History is not only being made on the field, though — it's being made on the sidelines as well. Autumn Lockwood, Eagles assistant performance coach, is the first Black woman to coach in a Super Bowl. And Nicole Lynn, Hurts's agent, is the first Black agent to represent a player in the Super Bowl.
Lockwood joined the Eagles in August 2022 as the team's certified strength and conditioning specialist (CSCS). She'd previously earned a bachelor of science degree in criminal justice with a minor in psychology from the University of Arizona and a master's degree in sports management from East Tennessee State University. But football, in particular, runs deep in her family.
"From day one she come home from the hospital, after about a week or so, she was at the football games," said David Lockwood, Autumn's father and former cornerbacks coach for University of Las Vegas Nevada (UNLV), during an interview on "RebZone Sports Show." In 2017, Autumn worked at UNLV alongside her father as a strength and conditioning intern.
Since then, she's held sports performance or strength and conditioning positions with the Atlanta Falcons, East Tennessee State University, and University of Houston. "Having athletes develop into their own greatness and being a part of that, you can't ask for anything better than that," she told "RebZone Sports Show" in 2017. In addition to being the first Black woman to coach in a Super Bowl, Lockwood will be the fourth woman to coach in a Super Bowl, joining Katie Sowers, Lori Locust, and Maral Javadifar.
Lynn also makes history this year as the first Black agent to represent a player at the Super Bowl. Lynn's road to the Super Bowl started with a single Instagram DM to Hurts in 2020.
"Hey, have you picked an agent? If not, I'd love to link," Lynn wrote to Hurts, who was at Oklahoma University and had just finished playing his final game, according to a Sports Illustrated interview.
It was "a total Hail Mary," Lynn told SI. But it was "all the synergy" between her path and Hurts's that encouraged her to shoot her shot.
Nicole Lynn of @KlutchSports will become the first Black female agent to represent a quarterback in the #SuperBowl

Lynn represents @Eagles quarterback Jalen Hurts.

(via @diverserep, @AgentNicoleLynn) pic.twitter.com/Mc5qmhJV1Q

— Sports Business Journal (@SBJ) January 30, 2023
Lynn, author of "Agent You," actually went to OU law school years before Hurts, and her husband played football there, per SI. They also had an Alabama connection, as Hurts had won a national championship with the Crimson Tide prior to joining the OU team, and Lynn had represented several of Alabama's star alumni. Lynn also lived in Houston, where Hurts was from.
"I know the agent world in the NFL, and all sports, is very male-dominated," Hurts told SI. "But Nicole was really on top of her stuff. She was prepared. She knew what she was talking about. She was hungry. And she was determined. And I feel that determination like that never rests. Once you come across such a determined individual, that just hits me a little different."
Now, just three years later, the pair are heading to the Super Bowl, marking both Hurts's first appearance and Lynn's. If that's not Black Excellence, I don't know what is — and no matter the outcome of the Super Bowl, that's exactly what I'll be celebrating.