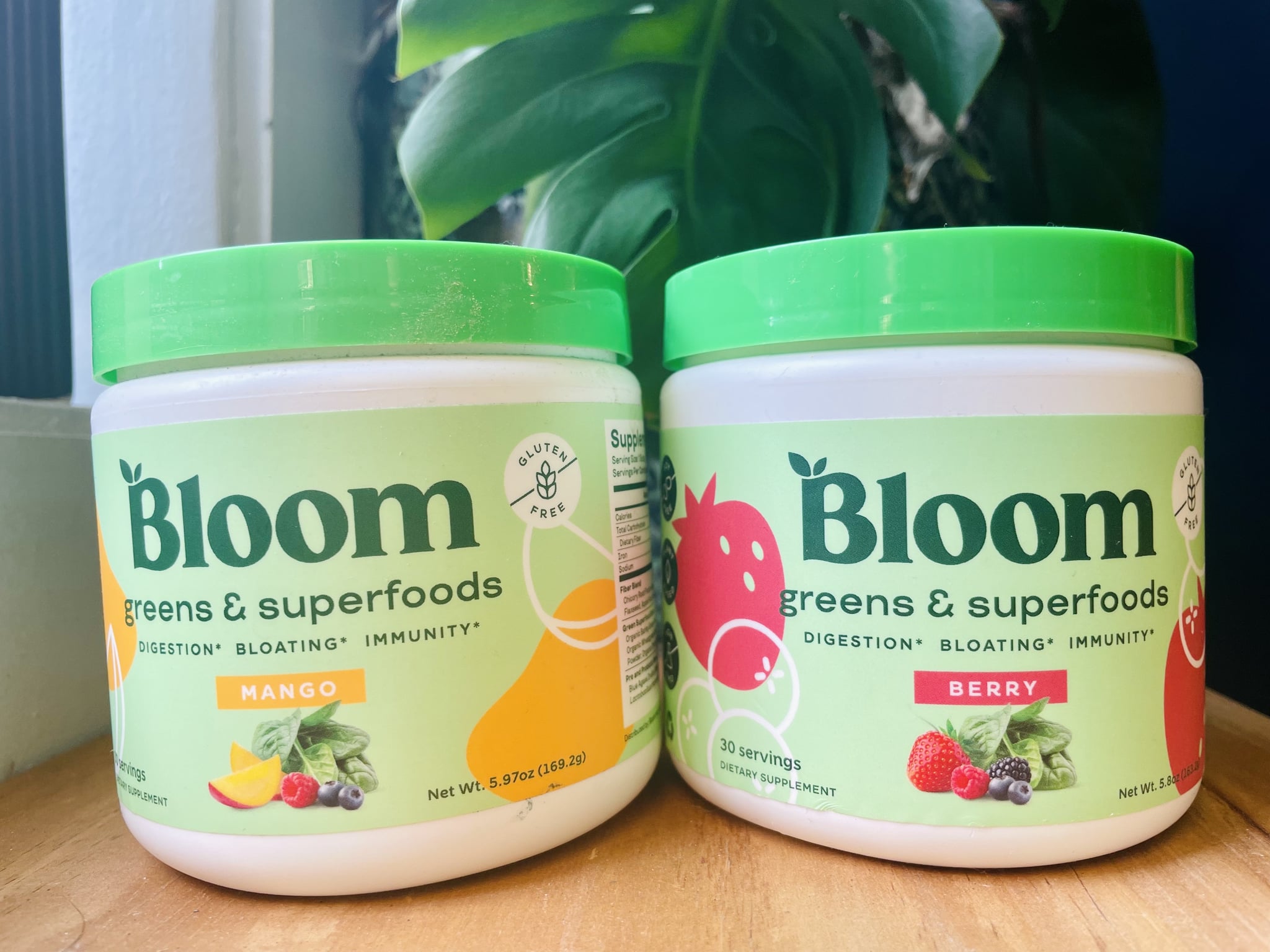 I've figured out the perfect concoction to heal hangover headaches — and it starts with the supplement that's all over TikTok. Yeah, I'm talking about Bloom Greens & Superfoods ($40).
In case it hasn't been on your FYP, here's the gist: Bloom Greens & Superfoods is a green powder supplement aimed at increasing energy, boosting immunity, decreasing bloating, and offering overall gut support. And I've been mixing it with coconut water. (Specifically, I love Vita Pressed because it contains coconut puree, which gives it a little extra texture and flavor and makes it taste like a smoothie.) Combined with Bloom's 30-plus nutrients, I feel like I've made a healing potion for after too many negroni sbagliatos.
There's a reason it does the job: When you consume too much alcohol, it dehydrates you and increases the body's demand for key vitamins and minerals (which is why you might feel sluggish the next morning). Coconut water has electrolytes, such as potassium, sodium, and manganese, that help with rehydration, according to Mayo Clinic. And Bloom's antioxidants help reduce the inflammation caused by alcohol.
In case my simple recipe isn't enough to convince you, keep reading to learn more about the magic green supplement that is Bloom Greens & Superfoods and why it's worth your attention far beyond being a hangover cure.
What I Like About Bloom Greens
Honestly, my fave thing about Bloom is that it's super easy to add to my morning routine. I am terrible at taking vitamins and had given up on daily supplements. So when I started adding Bloom to my water, I felt like I was accomplishing something before I had even really started the day. Also, the tropical flavors give my smoothies an added zest when I'm not too lazy to pull out the blender.
Bloom is really big on advertising that it "fights bloat" and "soothes digestion," but I wasn't expecting it to be so efficient. When I started drinking it daily, I noticed my bowel movements (TMI) felt routine rather than random or out of my control. I used to take Metamucil for fiber, but with Bloom, I no longer feel like I need it.
And, of course, it has helped me through many a hangover. Instead of reaching for Gatorade or another high-sugar sports drink, I prefer knowing I'm stacking up on vitamins while hydrating after a long night out with friends. It typically helps with any lingering headaches and gives me a small boost in energy so I can still tackle my day.
What's in Bloom, exactly? It contains seven different "blends" — fiber, green superfood, pre- and probiotic, fruit and vegetable, antioxidant beauty, digestive enzyme, and adaptogenic — and each one is a combination of several different ingredients. For example, the fiber blend contains chicory root, organic flaxseed, and apple fruit powder. The fruit and vegetable blend contains organic carrot powder, beet root powder, kale leaf powder, blueberry powder, spinach powder, broccoli powder, and ginger root 5:1 extract. And the pre- and probiotic blend contains blue agave inulin (a prebiotic) and three probiotic strains.
What's Worth Noting About Bloom Greens & Superfoods
If you're not a fan of artificial sweeteners, take note that there are 57 milligrams of stevia leaf extract for added sweetness. Personally, I don't mind it, because it gets me to drink more water.
Also, the powder can stick to the sides of the cup, so I try to clean my cup right away — otherwise, it can be challenging to clean when it's dried. I'd recommend using an electric whisk to mix Bloom or throwing it in the blender. Without doing so, it takes a lot of shaking or stirring to get the best consistency. Bloom sells a High Powered Mixer ($14) that would do the job.
It's important to note that, as of publication, Bloom does no third-party testing of its ingredients. For this reason, it's difficult to assess the efficacy of the different blends in this supplement, as there's no independent testing or evidence-based research to confirm or deny the claims, says Karin Evans, PhD, CHES, a registered dietitian with Top Nutrition Coaching. Also, making a claim of relieving bloating and assisting with gut health is very broad, Evans says. "Bloating can occur for a variety of reasons, from hormone shifts to different food intolerances to having medical gastrointestinal disorders," she says, and "there are certain probiotic/prebiotic strains that are better than others for certain symptoms," making it difficult for this supplement to be one size fits all.
Plus, like most supplements, the health claims are not approved by the US Food and Drug Administration. The FDA maintains that you should always talk to your doctor before using supplements because they can potentially interfere with health conditions and medications.
Who Bloom Greens & Superfoods Is Best For
Typically, as a wellness writer, I see supplements advertised for athletes or people who love the gym. But to me, Bloom actually seems accessible to those who just want to ensure they're getting more nutrients into their day. Dietitians on TikTok are quick to point out that you'd get way more benefits from eating whole fruits and vegetables. And while that's true, supplements should never be used as a replacement for whole foods, but rather to supplement your diet. For those who don't have the time, money, or access to eat more fruits and veggies or who just hate the taste — as one commenter says, "I'm not eating two cups of spinach a day 😂 no thank you lmao" — Bloom can be a helpful alternative.
I'll admit that I have days where I haven't eaten a vegetable or fruit. Sue me. But knowing I've swigged back some vitamins makes me feel — and want to continue to be — healthier. And it's easier to continue down that road when you've already taken the first step to improve your well-being.
Additional Details
Bloom Greens & Superfoods is gluten-free, soy-free, and dairy-free. However, Bloom's products are made in a facility that also processes nuts and dairy products, so the company recommends emailing them if you have any allergy concerns.
The supplement comes in five different flavors: original, berry, coconut, mango, and citrus.
It's recommended to blend one scoop (about five grams) of the powder with eight to 12 fluid ounces of water, once or twice a day.
Where Is Bloom Greens & Superfoods Available?
Bloom's Greens & Superfoods is available to buy directly from the website Bloomnu.com, in addition to Bloom Nutrition Green Superfood Original ($40) at Amazon and Bloom Nutrition Green Superfood Berry ($30) at Target.
Rating:

Image Source: POPSUGAR Photography / Melanie Whyte