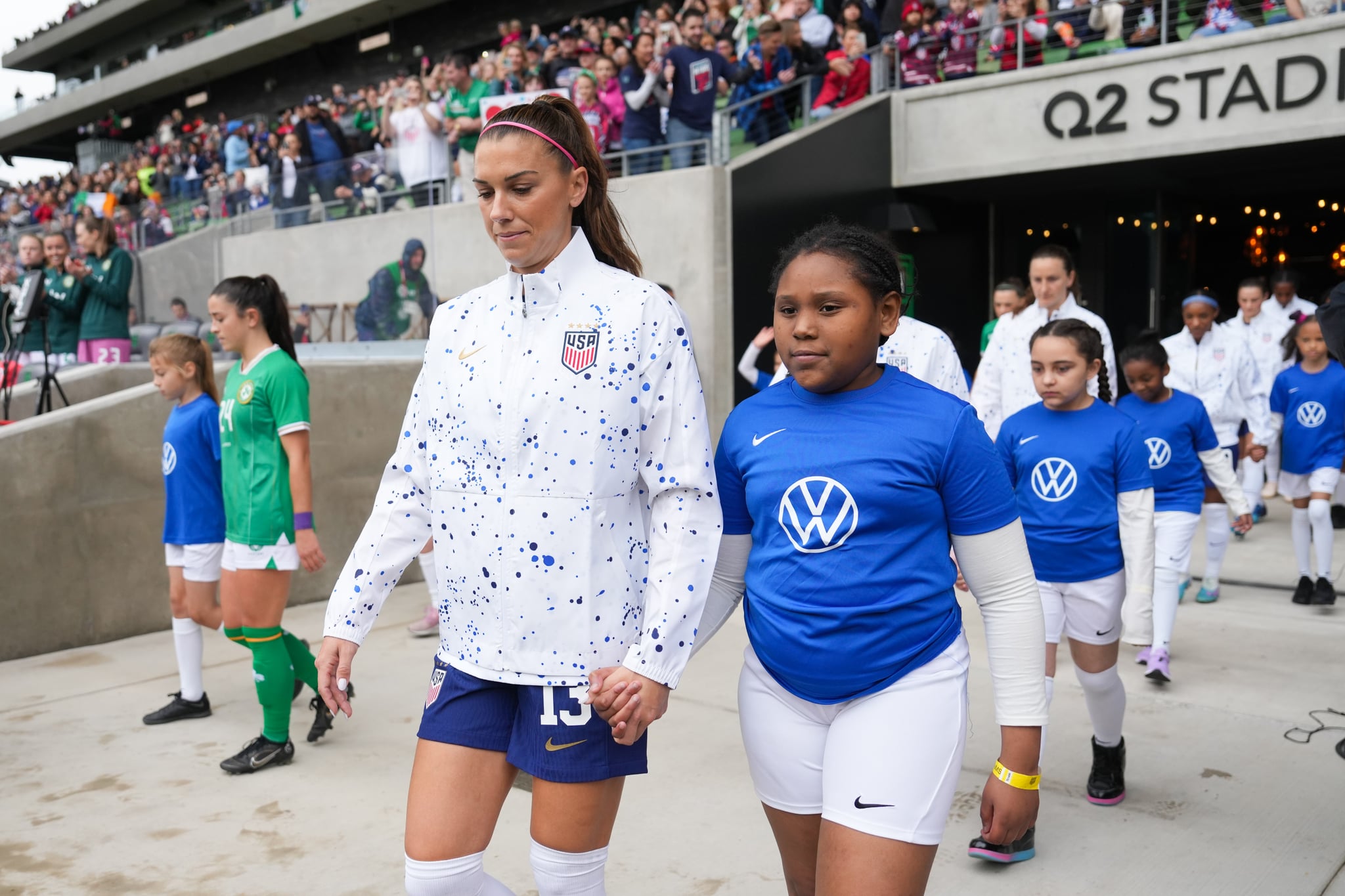 If you've ever watched the pregame ceremonies of a soccer match, you've probably noticed a sweet detail: the players always walk onto the field holding the hands of kids, who are dressed like an adorable little squad themselves. It's a longstanding tradition that's rarely explained during international tournaments such as the World Cup — so if you're curious about the history, you've come to the right place.
The children who walk out with the players are called "player escorts" or "mascot children," and they've been part of soccer games for well over 20 years now. One of the earliest photos of children walking as mascots was published in the Liverpool Echo after a November 1996 match between Liverpool and Everton. Beginning around 2000, the practice as it is today began: one escort for each player, rather than just one or two per team.
Early on, the practice of having children escort the players doubled as a way to raise awareness for charitable causes. Ahead of the 2002 FIFA World Cup, FIFA and UNICEF partnered on a program called Say Yes For Children, which aimed "to promote and protect the right of all children to healthy recreation and quality primary education," according to a 2002 UNICEF press release. The statement continued: "Children are being given a prime role at each match, accompanying each player onto the pitch in a symbolic action reminding football enthusiasts that they have a major role to play in building a world fit for children."
Starting in 2002, McDonald's became a key sponsor of the mascot program at the World Cup and European Championships, offering parents and children a chance to enter a sweepstakes to win one of those coveted spots. In 2014, McDonald's reportedly sent 1,400 kids from 70 different countries to the World Cup in Brazil, according to ABC News.
At the 2023 FIFA Women's World Cup in Australia and New Zealand, sponsor Commonwealth Bank will be taking the program to new heights. According to FIFA, the CommBank FIFA Women's World Cup 2023 Player Escort Programme will see 1,500 children, between the ages of 6 and 10, accompany players onto the pitch before matches throughout the tournament.
"Through their investment in Australian football since 2021, Commonwealth Bank have demonstrated a genuine commitment to growing women's football participation, creating opportunities, and championing leadership. These goals are closely aligned with the objectives of FIFA's own women's football strategy, so this partnership truly is an exceptional fit. We look forward to working closely with Commonwealth Bank over the coming months as together we aim to inspire kids and communities through the power of women's football," said Sarai Bareman, FIFA chief women's football officer, in the FIFA press release announcing the partnership ahead of the 2023 tournament.
In other cases, however, being a mascot might be as simple as paying the price tag. A 2018 investigation by The Guardian revealed that a large number of Premier League teams often charge between £150 and £600 for kids to be escorts at a match. The "mascot packages" often include more than just a place as a mascot — kids are also given gear, autographs, or other swag — but the practice has drawn criticism for excluding kids from less affluent backgrounds.
At its best, however, this cute tradition allows young fans to have a special moment with their favorite players and reminds audiences that there's more to soccer (or any sport) than the outcome of the game.