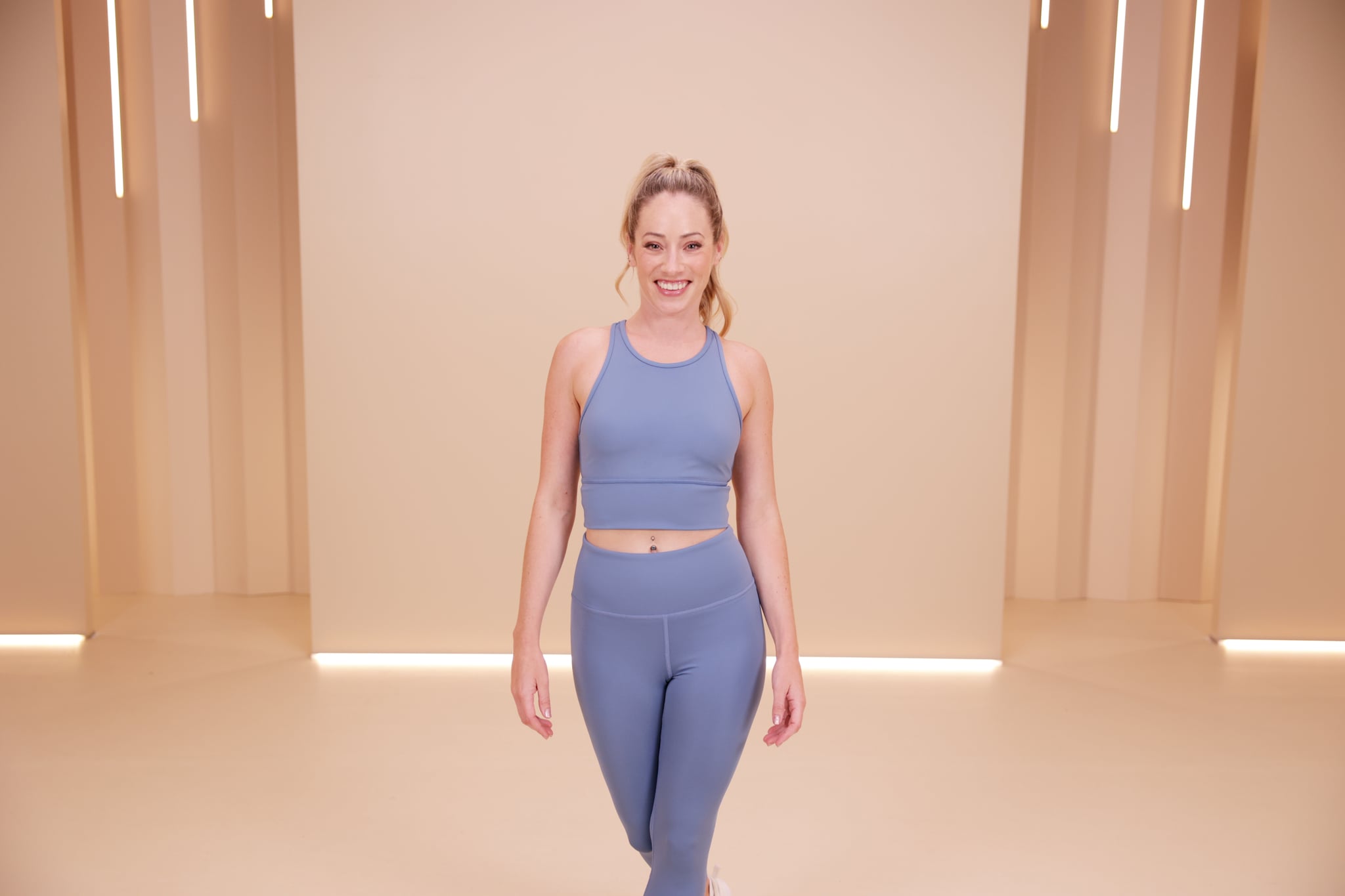 Catch Natalie White and the other Class FitSugar trainers in new episodes dropping every Sunday and Wednesday on the POPSUGAR Fitness YouTube Channel.
Natalie White grew up in a tiny village in Cornwall, England, and she trained her whole life to become a professional dancer. That dream became a reality: She attended dance school in London, got a job performing on cruise ships for several years, and then moved to LA where she continued her career performing with dance companies, going on tour, and choreographing for music videos, theater, and more.
But when the COVID pandemic hit and performing jobs all but vanished, teaching fitness classes — a side-gig that had filled her schedule between shows — became her main source of work.
While on paper, it looked like White was giving up her life's work, she ultimately found that the switch led her towards a more balanced life — and to her discovering a new dream job, as one of the new hosts of POPSUGAR's Class Fitsugar YouTube series. In fact, even now that shows are up-and-running again, White has decided to stick with teaching. Read on to hear the unlikely start to her fitness journey, and how she's bringing everything she learned in the dance world to your next workout.
From Stage to Studio
During the initial COVID shutdowns, White was suddenly out of work. Though it wasn't the best news, objectively, for White it was actually a bit of a relief. "I danced for a long time," she says. "When there was no work during the pandemic, I honestly felt like this weight had been lifted."
As was the case with so many other people, the pandemic's giant pause allowed White to slow down and breathe for a sec. And even more significant than that was her revelation that "your job doesn't define you," she says. "It took the pandemic to make me realize that I'm so much more than just a dancer."
She had previously taught classes at Pop Physique and Body by Simone to supplement her dance career. Then, during the pandemic, she started offering her own Zoom classes, and the validation she felt was immediate and powerful. "People had never been so appreciative," she says. "People had always appreciated workout classes but it got to the point where they were literally doing it for their mental health. I was getting so many people saying, 'thank you so much for doing this. It's really made a difference for me.' I think connecting with people more on that level really shifted something in me, like, this actually makes a difference in people's lives."
"Your job doesn't define you. It took the pandemic to make me realize that I'm so much more than just a dancer."
Suddenly, fitness became her "main passion and main drive." What started as just a way to make money between dance jobs has "really progressed into a way of life," she says.
This sharp turn in her life path may not have been intentional, but it's turning out to be a positive change for so many reasons. "I actually feel a lot better, emotionally," she says. "Dance is so competitive and takes such a strain that it almost becomes unenjoyable . . . there are so many ups and downs, whereas with fitness, what am I trying to prove? Nothing. I'm just there to make sure that people have a good time, have a good workout, and hopefully end up feeling better."
An Evolving Fitness Philosophy
Though White always led an extremely active life, "I never worked out a day in my life," she says, laughing. "I always just danced, and I was lucky because dancing is a workout."
When she started teaching workout classes for extra income, White started with barre, since it's so similar to dance. From there, she segued into dance cardio. Now, she's fluent in and passionate about a variety of modalities, including HIIT and strength training. "I love lifting heavy weights," she says. "I just like feeling strong. I've always been emotionally strong and very independent and stubborn, so I think it's satisfying to know 'I can lift this' because it means I can do everything by myself, basically. That I'm strong and capable."
And though White's relieved to be out of the cutthroat environment of the dance world, the lessons she learned in determination, rejection, and self-confidence are paying off big time in another industry saturated with talent. Namely, to "keep fighting and keep moving forward," she says. White is focused on building her personal fitness brand, but that can be daunting in the era of influencer culture and rampant misinformation.
"You just have to ignore the noise and focus," she says. "That's something important I've done over the last couple of years: Ignore what everyone else is doing, stick to what I do, what I know, and what I'm offering."
Give her Instagram a look, and you'll gain an understanding of her fitness approach from her handle alone: @formbynat. "Form is the most important part . . . so first and foremost, let's focus on getting the exercise right, so you're actually building muscle in the correct place and don't get injured," White says. But it's not all that serious: "Once you put that foundation down, just have fun with it and do it because you enjoy it and you enjoy how you feel inside."
White wants you to be able to reap the benefits of that enjoyment-not-aesthetics vibe, whether you're a newbie to the workout world (just like White herself once was!) or a diehard exerciser, and whether you're ready to sweat for a few minutes or a few hours. Her new classes on Class Fitsugar are a perfect way to provide that.
"If you have 10 minutes a day, that's all it takes to improve your mood and get a good sweat on," White says. "When I film the POPSUGAR 10-minute workouts, I'm dead. That's my mission: make it fun, make it accessible, and encourage people to move."
Image Source: POPSUGAR Video