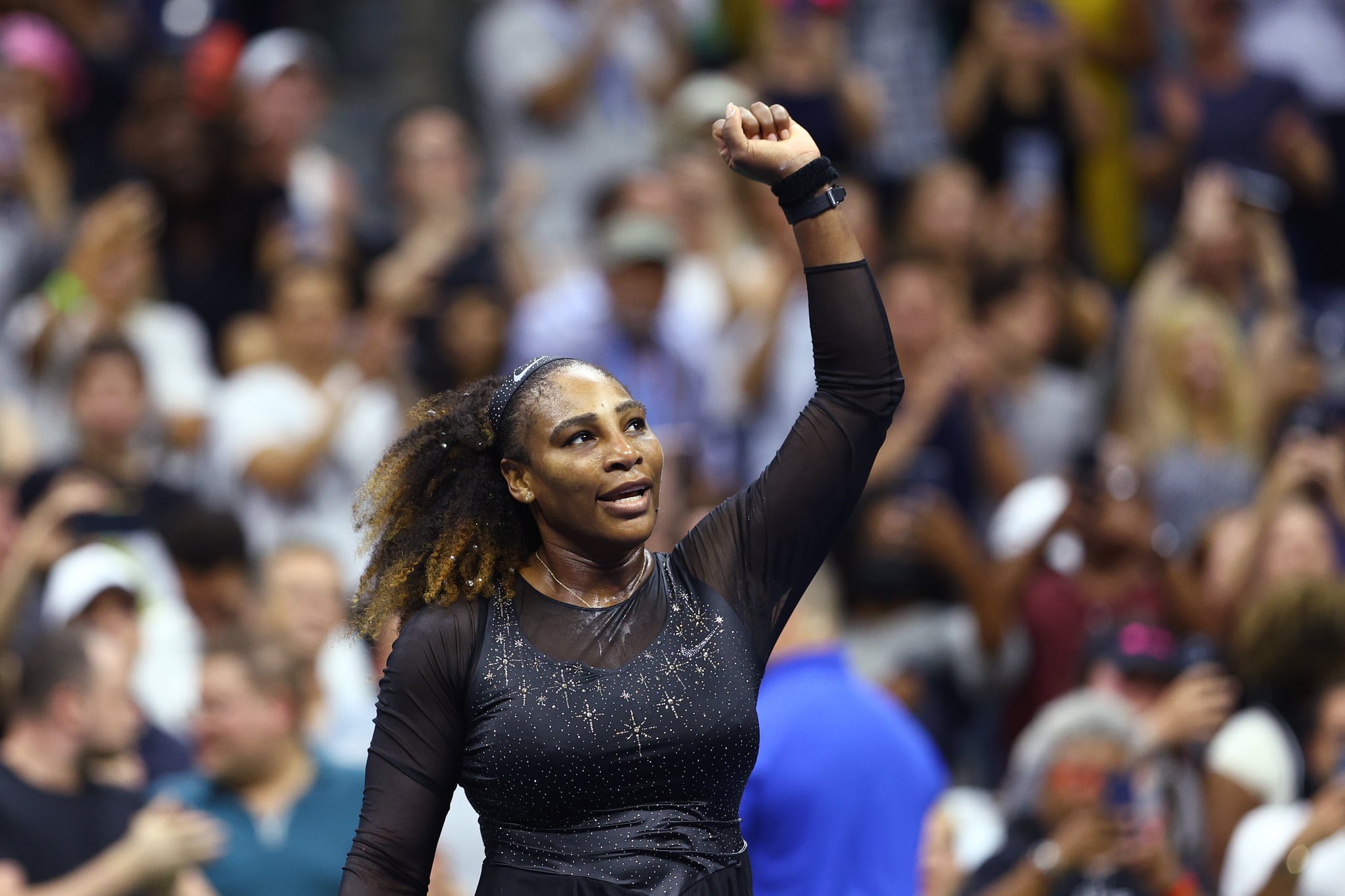 Serena Williams beat Danka Kovinic of Montenegro in her first match of the 2022 US Open, 6-3, 6-3, in what may be her final professional tournament. In front of a packed stadium and wearing a shimmering, crystal-studded Nike dress (matching with her daughter Olympia, of course), Williams put on her best show of the season to come out on top.
The 23-time Grand Slam winner rode a roller coaster of a first set as she got her serve going — and likely worked through some nerves, given the huge hype around the match. Her serve became a major player in the second set as Williams started to assert her game. She had notched nine aces by the end of the match and gained momentum, feeding off the crowd and building on the quality of her own game.
"When I step out on the court, I just want to do the best that I can do on that particular day," she said in a postmatch interview with Gayle King. "The crowd was crazy! They really helped pull me through. I was really pumped." Speaking about her impending retirement, Williams said the decision was not an easy one. "When you're passionate about something and you love something so much, it's always hard to walk away. Sometimes I think it's harder to walk away than to not, and that's been the case for me," she said.
The tournament has already served as a celebration for Williams's storied career, which the 40-year-old will be "evolving away from" after the US Open, she told Vogue earlier this month. The difficult decision was informed by her desire to grow her family while focusing on her business ventures. "I'm torn: I don't want it to be over, but at the same time I'm ready for what's next," Williams told the publication before displaying her continued skill and love for tennis in her performance today.
The victory was especially noteworthy given Williams's recent difficulties in competition: her best finish this year was a round-of-32 exit at the National Bank Open earlier this month in Toronto. She enters the US Open ranked 413th in the world but looked rejuvenated playing against 80th-ranked Kovinic at Arthur Ashe Stadium, staying on the attack and channeling the confidence and power she's shown in her years at the top of the game. Next up for Williams: a tough match against Anett Kontaveit, ranked second in the world, and her first doubles match with sister Venus, both on Wednesday, Aug. 31.