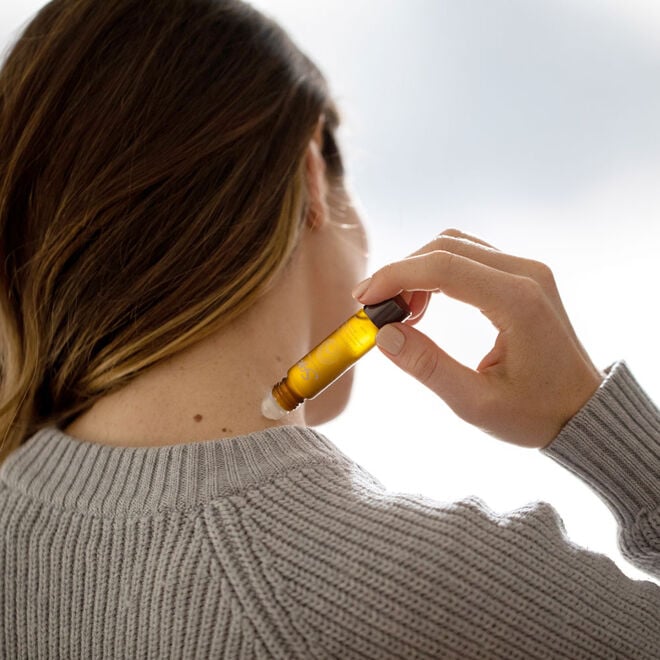 I've gotten the occasional headache for as long as I can remember, but the first time I experienced a migraine was about a decade ago. It felt like someone was drilling into my skull, and once it was over, I prayed that it had simply been a fluke and would never happen again. Unfortunately, migraines have remained a constant companion in my life ever since, and I've spent the past 10 years on a quest to reduce the frequency of the attacks and alleviate the pain.
When I feel a migraine coming on, ideally I'll go into a dark room armed with an ice pack, chug water, and wait for it to pass. Of course, migraines often strike at times when this isn't an option: during meetings, at special events, and (*shudder*) on cross-country flights.
I usually take a dose of an over-the-counter migraine pain reliever as soon as I feel a headache coming on, but the effect is pretty minimal. Still, I always keep a bottle with me, because anything that alleviates even a fraction of the pain is my friend. Last year, I decided to get a little more creative and went on a search for other products that might help ease the pain. I browsed forums where people who experience migraines commiserate and swap tips and did as much research as possible. Because I travel several times a month, I specifically wanted something small that's easy to keep with me at all times and meets the TSA regulations for carry-on luggage.
After trying a number of products without much luck, I stumbled upon the Saje Natural Wellness Peppermint Halo Cooling & Soothing Oil Blend ($28). I liked the affordable price tag, and a friend who also suffers from migraines told me it had helped her. It comes in a roll-on applicator and is super easy to use: you simply apply it to your temples and hairline to create a halo effect. You can also put it on your neck and shoulders, which I recommend doing if your body feels tense.
The Peppermint Halo is fast acting — I typically begin to feel the cooling relief within five minutes.
There's no silver bullet to cure a migraine, but the Peppermint Halo is the first product I've tried that both eases some of the pain and helps keep my anxiety under control. (Like many people who experience migraines, I also have an anxiety disorder, and my anxiety amps up when I have a migraine attack.) The cooling effect provides some relief, and it's especially helpful when I don't have the option of going into a dark room with my ice packs. Applying the blend takes less than a minute, so I just need to duck into the restroom for a moment. It's also fast acting — I typically begin to feel the cooling relief within five minutes.
Although the main ingredient is peppermint, the Peppermint Halo also contains lavender and rosemary, both of which have been shown to decrease cortisol, the body's stress hormone. In addition to soothing my throbbing head, the scent also eases my anxiety, which almost always accompanies my migraines — especially when I'm in public, instead of the comfort of my own home.
It's especially been a lifesaver when I have a migraine right before a presentation or important meeting. Although the migraine doesn't go away, the Peppermint Halo reduces the pain and anxiety just enough that I can think straight and complete the task at hand. It's also made a number of flights more bearable. I'll continue to search for that elusive cure, but for now, I never leave the house without this small wonder.